February 2018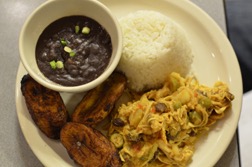 By Elizabeth Hey
Smack dab in the middle of Fulton's Brick District and tucked behind the delightful Smockingbird's boutique, Fulton Café serves up authentic, and addictive, Cuban fare alongside American sandwiches, salads and soups. In 2017, the cafe was voted first place as the "Best Local Restaurant" in the Fulton Sun's "Callaway's Best" contest.
According to Cuban-born Iris Atkinson, co-owner with her husband, John, recipes hail from the Cuban cookbook that brides-to-be have received for decades. Iris should know. She immigrated to the States on her tenth birthday; her entire extended family still resides in Miami and Cuba, except for her mother who also lives in Fulton.
In 2008, the cafe opened its doors—the dream of Iris' sister and brother-in-law who followed the Atkinsons from Florida to Fulton, where John grew up. But after a particularly icy winter, they handed off the keys to the historic brick building and moved back to Miami. When Iris and John took over the "lunch only" cafe, Cuban fare wasn't on the menu. Inspired by her heritage, Iris began experimenting with a daily Cuban special.
"Each afternoon, our special sold out, so we added Cuban entrees to our menu," says Iris.
Sofrito, a mixture of onion, green pepper and garlic, sautéed in olive oil and white wine remains the foundation of most recipes. Sweet and savory often intermingle in entrees. Pork shoulder starts roasting in the morning; fork-tender by 6 p.m., it's ready for the next day's entrees. Of the menu's Cuban specialty coffees, cortadito was my personal favorite concocted with sweetened espresso, evaporated milk and sprinkled with cinnamon. Beans are sourced from Miami.
My husband and I ordered chicken fricassee marinated in a sofrito-based tomato sauce that incorporated green olives and raisins—an unlikely combo to our American palate—that paired wonderfully together. Roasted pulled pork came with a side of tangy mojo sauce combining orange, lemon and lime juices; cumin; white onion and garlic. Entrees included sides of white rice and black beans infused with bell peppers, onions, garlic, bay leaf and apple that, according to Iris, is a day-long process. We tried plantains two ways: flattened green plantains that were fried, smashed and fried again, called tostones; and ripe plantains that were simply quartered and fried.For an easy dive into Cuban cuisine, the popular Cuban sandwich teams roasted pork and ham, Swiss cheese, dill pickles and butter layered between freshly baked, traditional bread. The dough is shipped in monthly from Miami. The Cuban frita burger, a blend of beef, pork and chorizo drizzled with sauce on the "high" end of mild, won second place in the "Best Burger" category in 2017's "Callaway's Best" contest.
Visit
mkt.com/fulton-cafe-llc.com
for more information.