February 2020
Tucked into a delightful replica of Missouri artist George Caleb Bingham's house, Catalpa, and its chef-owner Liz Huff, remain a force to be reckoned with. She's even been selected as the guest chef for a historic preservation dinner that Governor Parson will attend in April.


We entered through the flower-filled brick patio where Bingham, the cat, lay stretched out like he owned the place. He barely gave us notice. In the family for years, nooks and crannies of the house-turned-restaurant displayed family photos and memorabilia. It personified Chef Liz and her warm, vivacious spirit.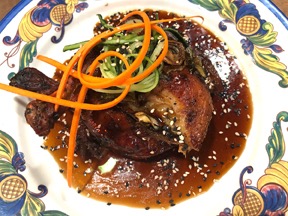 "I like to welcome our guests, just like they're coming to my house for dinner," says Liz, who grew up in Marshall and trained at the New England Culinary Institute in Vermont.


In the scratch kitchen, Liz whips up her grandma's double yeast rolls, bakes homemade crackers and dreams up ice cream, sorbet and custard flavors in her six-quart old-fashioned churn. Dressings use non-GMO, organic sunflower oil, including her peach-lemon-tarragon vinaigrette that she bottles and sells on-site and at Dierbergs. Mindful of dairy and gluten-free sensitivities, most sauces incorporate vegetable stock.

My husband and I launched into the seasonal menu with flakey spanakopita, the most popular starter since day one. Shrimp, cooked in Chimayo red chilies from New Mexico with slices of fresh garlic, sizzled on an iron skillet. For entrees, the half duckling basted in homemade ginger teriyaki sauce came plated on basmati lime and scallion rice—ginger juice reduced for hours created the sauce. A wild salmon steak and seared beef tenderloin tips also appear on the menu.

Not-to-be-missed, double chocolate mocha cake accompanied her cappuccino ice cream and fresh raspberry coulis. Creamy Mexican vanilla ice cream in the classic Affogato was topped with shaved Belgian chocolate and chopped roasted hazelnuts with a shot of espresso tableside. Liz uses natural ingredients in her ice creams, custards and sorbets.

Rolling out June through September, a $25 fine dining lunch and dinner menu will include a non-alcoholic drink and dessert. Off-season events range from themed dinners, such as an eight-course Italian feast; cooking classes on Wednesday nights and Sunday afternoons and multiple-course, beer-pairing dinners. Dinner parties for eight or more can be arranged in Arrow Rock or off-site in a host home as far away as Kansas City, St. Louis or beyond.

Visit
CatalpaRestaurant.com
for more information.