The Gift
November/11/2011
by GARY FIGGINS, Editor & Publisher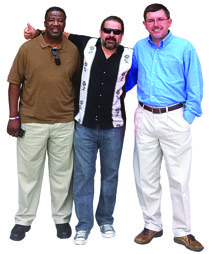 W
hen Tim Magsby and Randy Riney crossed the stage at Caruthersville High School on graduation night in 1986, it would be the last time either saw each other for a very long time. As is all too common in rural American towns, the paths to adulthood would take them far from home, with few visits back. The story of their reunion rings with the message of the Christmas season.


In 2007, Tim, now married and a father of two, was diagnosed with acute renal failure, meaning his kidneys had completely shut down. Tim would eventually begin a grueling regimen of dialysis twice a week for four hours a day. After four long years undergoing the treatment, Tim began wondering how much longer he could hold out, even telling his wife that he didn't know whether he could continue.

Fortunately, small town roots run deep. Caruthersville graduate Quitman McBride, Jr., convinced him to record a video that would be posted on the internet in hopes of finding someone willing to donate a kidney. In the video posted to YouTube, Tim introduced his family and explained that his immediate family members could not be considered as donors due to family health history. The plea was a long shot.

The video no doubt received some traffic, and while it is unknown how many people might have answered the call for help, there were no matches within the first few months. Late last year, the video was discovered by another Caruthersville alumnus, Jennifer Moore, who then posted it on Facebook.

With planning underway for a 25th high school reunion, Tim's situation was often the topic of discussion. What no one knew at that time was that Randy, now living in California, had already responded. Tim, upon hearing that someone he had not seen in more than two decades was willing to be tested, tried not to get his hopes up. In January, Randy made the trek from California to Nashville, where he underwent a battery of tests at Vanderbilt University Medical Center. After four years waiting for a transplant, a near-perfect match was found.

On April 19, the two entered the hospital as childhood friends. They would leave as brothers a few days later, forever connected by a selfless act of generosity. A short week later, Randy returned to his life in California as Tim began his life anew. Tim has experienced no complications since the transplant, other than an inexplicable desire to watch NASCAR and listen to Dwight Yoakam. He jokes that he has also discovered he can no longer dance.

When the two entered Hopke Field for their 25th high school reunion on September 23, the entire homecoming crowd stood and applauded as their story was shared over the public address system, a fitting tribute to these two former Tiger football players.

Each of us defines "hero" differently, and, truthfully, the term is thrown about far too casually. Randy will forever be a hero to Tim and his family for his selfless act. Randy sees it differently; Tim is the hero for his perseverance in seeking out a way to continue his duties as a husband and father.

It's easy to say we would do anything for a friend, but would we? I watched Tim's video and never once even considered getting tested. Fortunately for Tim, he did not have to rely upon me.

In this season of giving, there are gifts that many of us never consider. In the U.S., more than 112,000 patients are awaiting an organ transplant, with more than 4,000 patients added to the waiting list each month. It's easy to donate an organ upon death by simply filling out a donor card, and while agreeing to be a living donor is a far more difficult decision, it was just such a decision that allows Tim to spend this Christmas and many more with his family.